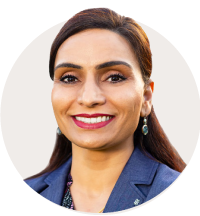 Harwinder Sandhu was elected as the MLA for Vernon-Monashee in 2020. She is a Member of the Cabinet Working Group on COVID and the Select Standing Committee on Finance and Government Services. 
 Prior to being elected, Harwinder was a registered nurse at Vernon Jubilee Hospital and worked as a patient care coordinator. An active member of the BC Nurses' Union, she served as Provincial Chair of the Mosaic of Colour caucus and as a lobby coordinator. As part of the BC Nurses' and as an individual she worked on many charitable initiatives.
Harwinder worked with  Northern Health at Mills Memorial Hospital in Terrace for over 7 years before moving to Vernon with her 2 young daughters, after losing her first husband, Sammy, to cancer.
Harwinder is now married to fellow healthcare worker Baljit, with whom she is raising three children.